For over 50 years Webster-Wilkinson Ltd have been helping to connect the Transmission and Distribution Industry with our range of high voltage transformer bushings, cable boxes, connectors, off-circuit tapping switches and protection and indication equipment. 
From our own factories in the UK, Webster-Wilkinson Ltd are able to control production from raw materials up to tested and inspected finished product. Our In-house processes vary from traditional skills – such as our foundry and include also the latest laser cutting equipment. We operate a completely integrated manufacturing facility producing all our own products from raw materials.
We are able to design and manufacture solutions for you or alternatively manufacture parts or equipment to your specifications. 
Standards

Over the years we have designed and manufactured our own range of porcelain and cast resin bushings and cable boxes along with products specifically conforming to British and International Standards including BS EN ISO 60137, BS EN 50180, BS 2562, BS 6435, BEBS T2, ESI 35-1, EATS 35-1 and DIN 42531 –and may more besides. 
Customers

Over our long history Webster-Wilkinson Ltd have supplied high-voltage equipment and components to most if not all UK Power and Distribution transformer manufacturers – including GEC, Babcock, Bonar Long, Parsons Peebles, South Wales Transformers, Lindley Thompson, Brentford and Hawker Siddeley Power Transformers. We continue to supply current UK transformer manufacturers including Brush, ABB, Groupe Schneider, Areva, Alstom, Seimens, Richard Wilson, Bowers, Transmag, T & R, Ultra and IST amongst others. We also supply our products and services to most leading Distribution Network Operators including Western Power Distribution, UK Power Networks, CE Electric UK and Scottish & Southern Energy. 
Spare Parts Service and Repair

Webster-Wilkinson Ltd also manufacture spare parts for bushings to enable end-users to refurbish or repair existing plant and equipment ranging from present day and up to 50 years old. Stock bushings, cable boxes – both HV and LV, glands and connectors are available for breakdown or outage situations. 
We are able to service, repair, dispose of safely, re-furbish or retro-engineer any bushing from 400V to 66kV.
Transformer Connection Solutions
Besides standard products, Webster-Wilkinson Ltd are able to supply numerous solutions to DNO Asset Managers – including design and manufacture of HV air boxes with integral plug-in style bushings to replace old or failing oil or compound boxes. 
Webster-Wilkinson Ltd can also retro-engineer, manufacture and supply like-for-like replacements in the event of catastrophic failure or destruction.
Head Office Address
Webster-Wilkinson Ltd
Halesfield 10
Telford
Shropshire
TF7 4QP
UK
Accreditations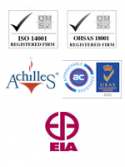 Office Contact Numbers
+44 (0) 1952 585701
+44 (0) 1952 581901