Webster-Wilkinson manufacture and supply a comprehensive range of oil level gauges for the transformer manufacturer as well as any manufacturer of liquid filled tanks or conservators. 
Prismatic Oil level gauges
This is the simplest option. The indicator should be positioned mid way between the tank maximum and minimum oil levels. We manufacture a range of prismatic style oil level gauges to suit most applications. The housing is manufactured from grade 304 stainless steel which requires no painting. Indicator plates can be supplied in any style to suit your particular circumstances. Gauge windows can be supplied in UV stable Perspex or shatterproof glass.
Oil level indicators R1
This type of oil level indicator is normally used in hermetically sealed transformers. The unit is float operated. The float is connected to an indicator button via a push rod. The oil level gauge is normally screwed into a weld on 1" boss. The unit is supplied complete with float and highly visible red indicator contained in a fully pressure tested Perspex dome.
Magnetic Oil level gauges
Using the clear visual indication of a dial and indicator arrow, these gauges can be supplied with axial or radial float arrangements. We can supply simple indication types or versions complete with contacts to enable remote alarm indication. Dials can be supplied in various diameters to suit the distance of the user/viewer. 
Please consult us for detailed drawings when you have selected a product of interest
Head Office Address
Webster-Wilkinson Ltd
Halesfield 10
Telford
Shropshire
TF7 4QP
UK
Accreditations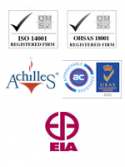 Office Contact Numbers
+44 (0) 1952 585701
+44 (0) 1952 581901