Cable boxes are designed to protect the cable termination. We manufacture and supply cable boxes in two basic forms based on the insulation system used.
Filled Fully Insulated boxes – These cable boxes are designed for filling with transformer oil or an insulating compound such as Guroflex. Filled cable boxes excellent insulation properties and as clearance distances are short, can be more compact where space is at a premium.
Unfilled boxes – These boxes are designed for the dry termination of HV cables. They can be supplied in three forms:
1. Heat Shrink Fully insulated – bushings must be shrouded with heat shrink insulation. This is a common arrangement and simple for the user to install.
2. Air Partially insulated – no additional insulation is needed. This range avoids the need for additional site insulation works but usually means that the cable box is large in order to maintain full air clearances.
3. Plug-in Fully insulated – using plug-in bushings for use with separable connectors. 
Compliance Standards 
BS 2562, BS 6435
Available Designs
Supplied with self-colour aluminium gland plate complete with 6mm diameter pilot holes to aid gland fitting by others. If you are able to specify the glands you require these can be fitted in our workshops prior to delivery. If you require gland plate in Stainless Steel please add SS affix to Drawing Number i.e. C6005/SS
Head Office Address
Webster-Wilkinson Ltd
Halesfield 10
Telford
Shropshire
TF7 4QP
UK
Accreditations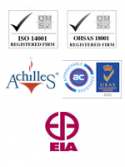 Office Contact Numbers
+44 (0) 1952 585701
+44 (0) 1952 581901