Webster-Wilkinson Ltd manufactures and supplies the following transformer protective devices
Pressure Relief Devices
These simple spring operated devices are pre-set to a release pressure specified by the user. Our normal range is from 0.2 bar to 0.7 bar in 0.05 bar intervals. The device is designed to automatically re-set after operation. The device screws into a 1" BSP boss normally welded onto a transformer tank cover. We are also able to supply this boss if required.
Buchholz Relays
We supply a full range of buchholz relays in accordance with CENELEC EN 50216-1 and EN 50216-2 Standards. We also supply gas sampling devices for buchholz relays. 
The range can accommodate internal pipe diameters of 25mm, 50mm, 80mm and 100mm. We can supply relays with trip and/or alarm contact – normally open/normally closed, as well as changeover contacts if required.
Dehydrating Breathers
We supply a quality range of silicagel breathers that accept gel charges from 0.15 kg to 1.0 kg. We also supply a 'piggyback' range enabling gel charges up to 4.8 kg.
Please consult us for detailed drawings when you have selected a product of interest
Head Office Address
Webster-Wilkinson Ltd
Halesfield 10
Telford
Shropshire
TF7 4QP
UK
Accreditations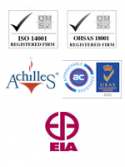 Office Contact Numbers
+44 (0) 1952 585701
+44 (0) 1952 581901