Refurbishment
We are able to refurbish and test most British and European bushings from < 12kV up to and including 132kV. Work normally includes initial inspection to enable quotation and estimate timescales. If refurbishment is economic work can include total strip-downs including insulator replacements or metalwork replacement, re-tinning, replacement of seal and gaskets, renewing of oil and routine mechanical and electrical tests.
Re engineering
From a given sample or sketch and photographs we are able to redesign and manufacture identical replacement bushings, connectors or cable boxes.
Disposal
We are a registered Waste Producer and are able to safely arrange disposal of your bushings providing you with Certificates of Disposal for your environmental records.
Site Inspections
Our engineers are able to arrange site visits to provide assistance on replacing or renewing out of date or damaged transformer related components.
Testing and Inspection
We are able to provide mechanical and electrical testing facilities for transformer bushings to correspond with your maintenance programs. We are also able to provide inspection services in cases of product failure in transformer related components.
Sub contracting
We are able to produce transformer related component parts to your detailed or general specifications. Typical equipment currently produced by us for others includes transformer tanks, high voltage cubicles, on-load tap changer tanks, marshalling cubicles, transformer core clamps, high voltage CT and VT enclosures and transformer conservators. 
Head Office Address
Webster-Wilkinson Ltd
Halesfield 10
Telford
Shropshire
TF7 4QP
UK
Accreditations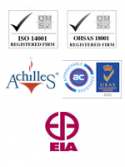 Office Contact Numbers
+44 (0) 1952 585701
+44 (0) 1952 581901