The following pages are designed to provide an overview and introduction to the products we currently manufacture and supply.
Should you require additional product information, data sheets, type test information, detailed drawings – including 2D and 3D CAD versions for inclusion into your layouts, prices or any other queries – please don't hesitate to contact us.
This website is simply unable to contain all the products we currently supply to the Transformer Manufacturer, the Transmission & Supply Industry and the High Voltage Contractor.
Our current range includes:
Housings
Transformer Tanks
CT / VT Tanks
Core clamps
Cable boxes
CT terminal housings
Transformer wheels DIN 42561
Thermometer pockets
Gaskets
HV Enclosures
Cable glands wiping type / compression / aluminium
Bushings
Bushings using porcelain or Resin insulation to DIN, EN, BS, AS, ANSI, EATS, ENATS, NGTS, BEBS, ESI, and IEC Standards
Condenser / capacitive wound bushings
Monoblocs LV and HV
Plug-in resin bushings
Through wall
Operation
Off –circuit tap selectors
Connection
Connectors block / flexible / Flag / Palm
Braided flexible copper
Busbars
Indication
Prismatic oil level gauges
Oil level indicator Vertical 'R1'
Magnetic oil level indicators
Valves
Oil draining devices
Gate Valves
Flanged Ball Valves
Two piece ball valves
Globe drain valves DIN 42568 DN 15 / DN 32
Locking pieces DIN 42558 for venting and oil draining
Radiator gear
Aluminium throttle valves M1 / M2 / M3 DIN 42560
Steel throttle valves with welding neck
Radiators
Protection
Pressure relief devices
Dehydrating Breathers DIN 42567 A/B or C DIN 42562
Buchholz Relays
Buchholz gas sampling devices
Support
Stand-off post insulators Resin / Porcelain
Head Office Address
Webster-Wilkinson Ltd
Halesfield 10
Telford
Shropshire
TF7 4QP
UK
Accreditations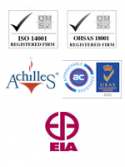 Office Contact Numbers
+44 (0) 1952 585701
+44 (0) 1952 581901