Bushings – Resin Special Exclusions
 

Here we show just a few examples of the many bushings we produce using resin insulation. One of the main benefits in using resin bushings -as opposed to porcelain bushings is the construction. Due the fact that the conductor is embedded into the resin and sealed against oil there are fewer opportunities for operational failures due to gasket issues.

4 terminal CT bushing

12kV Standoff Insulator

3.6kV single/ double terminal monobloc

<missing image>

12kV 250A bushing (Generally to BS 2562 Figure 4).
Head Office Address
Webster-Wilkinson Ltd
Halesfield 10
Telford
Shropshire
TF7 4QP
UK
Accreditations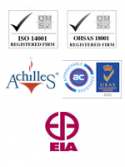 Office Contact Numbers
+44 (0) 1952 585701
+44 (0) 1952 581901